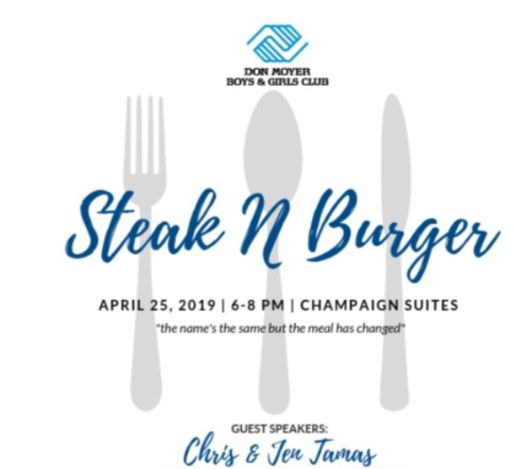 Join us for our Annual Steak N Burger Event
Thursday, April 25th from 6-8pm at Champaign Suites
---
This is a special event that brings our kids and donors together to celebrate the work and mission of the Club, recognize our Youth of the Year, and lift up the many accomplishments of our Club members.
We are excited to announce this year's guest speakers; Fighting Illini Head Volleyball Coach, Chris Tamas, and Assistant Volleyball Coach & 2008 Olympic Silver Medalist, Jen Tamas. We anticipate a wonderful message for our Club members and event attendees alike.
We look forward to seeing you for a great night of supporting Kids who need us most!
For more information on the event, purchasing tickets, or sponsoring the event please contact Renae Kirkton at: 217-355-KIDS (5437), ext. 5669 or rkirkton@dmbgc.org
Special Sponsors Only Reception with Chris & Jen Tamas on April 24th. Invite to follow.
---
Register today for the 2019 Steak N Burger Dinner!