Teen REACH Program
Open to all youth in Champaign County, the Teen REACH (Responsibility, Education, Achievement, Caring, and Hope) Program is a comprehensive youth development initiative that provides after school program services to high-risk youth between the ages of 11 and 17.
Our Goal: To provide a safe environment with caring adult role models that will work with youth to increase academic achievement and develop the life skills necessary for future success.
Our Core Program Services: 
Improving educational performance which includes time to do homework, tutoring in basic skills and enrichment programs that encourage creativity.
Life skills education which encompasses training and education that promotes the development of healthy lifestyles, and encourages abstinence from risk-taking behaviors in the areas of alcohol and/or substance abuse, criminal activity, violence and sexual activity.
Parental involvement so that parents and guardians have opportunities to meet with staff to discuss their children's activities and to participate in events that strengthen parent/child bonds and community involvement.
Recreation, sports, cultural and artistic activities and arranging safe outlets for youth to try new skills and develop new interests, to build friendships, find their place in a group, and gain developmentally relevant experiences.
Adult mentors who allow opportunities for participants to develop and maintain positive, sustained relationships with adults.
Service-learning activities that connect classroom lessons with meaningful service to the community. Students build academic skills while strengthening communities through service.
---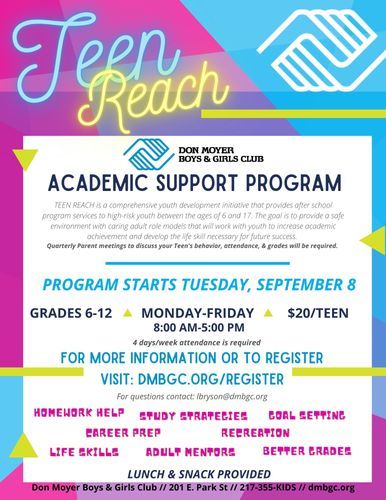 Champaign Teen REACH
Academic Support Program
Don Moyer Boys & Girls Club
201 E Park St. Champaign, IL

Dates
September 8, 2020 - May 21, 2021

Age Requirements
Must be entering grades 6-12 in Fall 2020

Hours
Monday-Friday 8:00am-5:00pm
* Pick-up ends 5:30pm

Cost 
$20 per child

Capacity 
40 youth
---
Frequently Asked Questions
How will you keep my child safe during the COVID-19 pandemic?

Don Moyer Boys & Girls Club is operating under a "new normal" during these challenging times. Our #1 priority is the safety of your child. The safety protocols will be followed as recommended by the Center for Disease Control & Prevention (CDC) which includes periodic handwashing, and teaching our youth to prevent the spread of viruses.

Don Moyer Boys & Girls Club is the only place that some of the families in our community can turn to when schools are closed. We have carefully considered the risks of our Club reopening, as well as the risks of disruption to service over the summer for families in our community. We believe that reopening for limited service will fill a critical need to the community.  Don Moyer Boys & Girls Club will remain vigilant to protect the well-being of the members and staff. 

Here are some of the steps we're taking to minimize risk and ensure a safe reopening:

1:14 Staff-to-youth ratio
Only youth and staff will be allowed in the building (drop-off & pick-up will be held outside the doors)
Before entering the building all staff & youth will have their temperature taken and recorded three times daily
Hand washing will be implemented every 60 minutes throughout the program day
Social distancing, avoiding physical contact and mask wearing will be of top priority

You can read our detailed procedures on our Safety Guidelines page.

What are the next steps after registration?

Due to the changing nature of the COVID-19 pandemic, all new registrants will be added to a Waitlist. After your child is added to the Waitlist, Club staff will contact you directly to answer questions, confirm the program details, and finalize your registration.

After the initial phone call, your registration is not secured until the following steps have been completed:

Payment - DMBGC staff will contact you to make payment arrangements. Payment arrangements must be made within 3 business days of contact, or your child will be moved to the Waitlist.
Virtual Parent Orientation - All parent/guardians must attend a Virtual Parent Orientation. We will go over our safety procedures in detail and answer any questions you have about the 2020-21 school year.
Participation Waiver: All parent/guardians will be required to sign a waiver acknowledging the risks involved of contracting COVID-19. Waivers will be distributed on the first day of program. You can preview the waiver here.

Will meals be provided? Can my child pack a lunch?

We will serve lunch and snack each day. Outside food and drink are not allowed in the building due to health and safety concerns. Please make sure the Club is aware of your child's allergies and dietary restrictions.

Who can I contact with questions?

Please send questions to Leon Bryson, Director of Teen Services, at lbryson@dmbgc.org or (217) 355-5437.

My child is on the Waitlist and I haven't received a call. What should I do?

If the program is not yet full, you will receive a call within 3-5 business days after you've registered. We will work with you to complete your registration.

If the program is full, we will call you as soon as a spot has opened up for your child. Please note there is no guarantee that spots will become available. While we cannot provide regular updates on whether your child has moved up on the list, you are welcome to call us at (217) 355-5437 for a status update.
---