After School Program - Grades K-12th
The After School Program serves Champaign County youth in grades K-12, and is designed to provide youth with a wide variety of high-yield learning opportunities in an after-school program setting. We offer homework help, tutoring, literacy initiatives, parent-involvement projects, and a variety of other targeted activities and specialized programming to reach the goals we set out for each of our youth.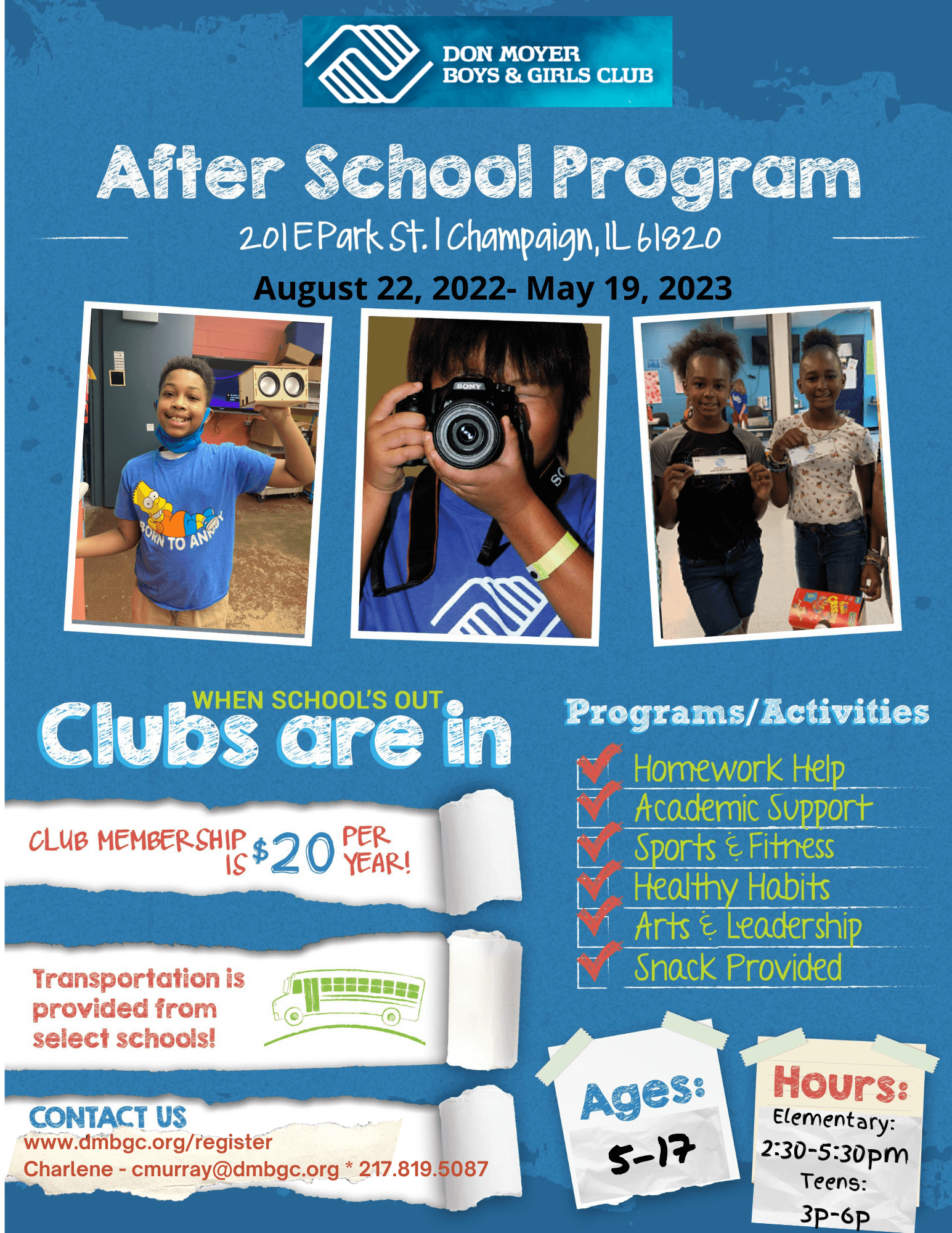 Family Orientation Schedule
Required for all families before attending any programs
Join Elementary/Teens Zoom Meeting
Meeting ID: 937 9339 4597
Passcode: 898434
---
Frequently Asked Questions
What is the After School Program?

The After School Program is designed for Elementary, Junior High and High School-aged youth between the ages of 5 and 18 years. At the club, we facilitate programs and activities that tie into our Priority Outcomes: Academic Success, Healthy Lifestyles, and Good Character & Citizenship. Program hours are Monday through Friday from 2:30PM and 5:30PM, with pick-up no later than 6pm. Club Members eligible to participate in Teen Nights are able to stay for evening programming between 5:30pm and 8:30pm. Club members are grouped according to their grade and age levels.

Who Can Register for the After School Program?

The After School Program is open to all youth in Champaign County, ages 5-18 who are in grades K-12th.

What Services are Offered in the After School Program?

Various services are included as a part of the After School Program, including but not limited to:

Power Hour (Making Minutes Count): Helps Club Members achieve Academic Success by providing homework help and tutoring. Dedicated youth development professionals and volunteers supervise each session and provide the opportunity for youth to complete their assignments for the day.

Project Learn/High-Yield Activities: Club staff use all the areas and programs in the Club to create opportunities for high-yield learning activities that are fun and engaging. These activities are facilitated within 5 of our Core Program Areas: Character & Leadership, Health Skills, Career Development, The Arts, and Sports, Fitness & Recreation.

MyFuture: Provides members with a safe and fun digital platform to showcase their work and earn recognition in the form of stars and badges. It is a space where kids can interact with each other, free from the prospect of cyberbullying, and share their accomplishments locally and nationally.

KidSmartz: This is a child safety program that educates families about preventing abduction and empowers kids in grades K-5 to practice safer behaviors. This program offers resources to help parents/guardians, caregivers, and teachers on how to protect kids by teaching and practicing the 4 Rules of Personal Safety using tips, printable activities, quizzes, articles, music, videos, and more.

D.E.A.R. (Drop Everything and Read)/Reading Partners: Each day, youth have the opportunity to participate in literacy hour. Why promote reading? Studies have shown that children who read for pleasure have more success in life! Being able to sit and read a story develops youth's ability to focus and develop their memory. Reading also improves youth's ability to empathize with others, their knowledge of the world, and their vocabulary. D.E.A.R. provides the opportunity for youth to read on their own based on their individual interests and reading level while Reading Partners provides the opportunities for youth to be paired with a volunteer to develop their charisma and literacy skills.

What are the Program Requirements?

Here at Don Moyer Boys & Girls Club, we place an emphasis on safety and club rules, regular attendance, and parent/guardian involvement.

Physical and emotional safety is our top priority; We want to ensure that you and your child are doing everything you can to help us ensure the safety of everybody at the club. No child is exempt from the club rules and everybody is expected to understand what they are and to follow them at all times while at the club.

Please keep in mind that while offering the Academic Support Program to youth throughout the community, we strive to serve youth who need us the most. We require that you and your child meet the daily and weekly attendance requirements in order to maximize the program's effectiveness in achieving our priority outcomes; This entails that your child attends the program throughout the duration of the day from the start time to finish time and that they attend at least 4 days a week. It will be at the discretion of the Services Director, along with the parameters of the Parent Policy & Procedure Manual, if these requirements are not being met and if another child on the waitlist should be offered your child's slot in the Academic Support Program.

In maximizing the program's effectiveness, your participation in your child's success here at the club is paramount. We ask that parents/guardians and their child adhere to the Parent Policy & Procedure Manual, respond to communications in a timely fashion, and attend all scheduled meetings and required events.

How does Parent/Guardian Orientation Look?

Parent/Guardian Orientations are scheduled once a week. At the discretion of the club, orientation can either be in person or via zoom. In orientation, Program Directors and/or Coordinators will attend and review important highlights of the Academic Support Program such as program overview and requirements, safety plan, Parent Policy & Procedure highlights, additional club opportunities, and Q&A. Upon completion of orientation, you will receive a PDF file of the Parent/Guardian Orientation via email. A copy of the Parent Policy & Procedure Handbook and the Policy & Procedure Commitment will also be sent via email, which must be signed and turned in prior to your child's first day of participation. The Policy & Procedure Commitment states that you have read and understood the entire Don Moyer Boys & Girls Club Parent Policy & Procedure Manual and agree to abide by its contents.

My Child is on the Waitlist and I Haven't Received a Call. What Should I Do?

If the program is not yet full, you will receive a call within 3-5 business days after you've registered. We will work with you to complete your registration.

If the program is full, we will call you as soon as a spot has opened up for your child. Please note there is no guarantee that spots will become available. While we cannot provide regular updates on whether your child has moved up on the list, you are welcome to call us at (217) 355-5437 for a status update.

Who can I contact with questions?

Please send registration questions to Charlene Murray, Program Administrative Assistant, at cmurray@dmbgc.org.

Please send program and safety questions to Dale De Vries, Director of Elementary Services, at ddevries@dmbgc.org.

You may also reach our Front Office Staff at (217) 355-5437.