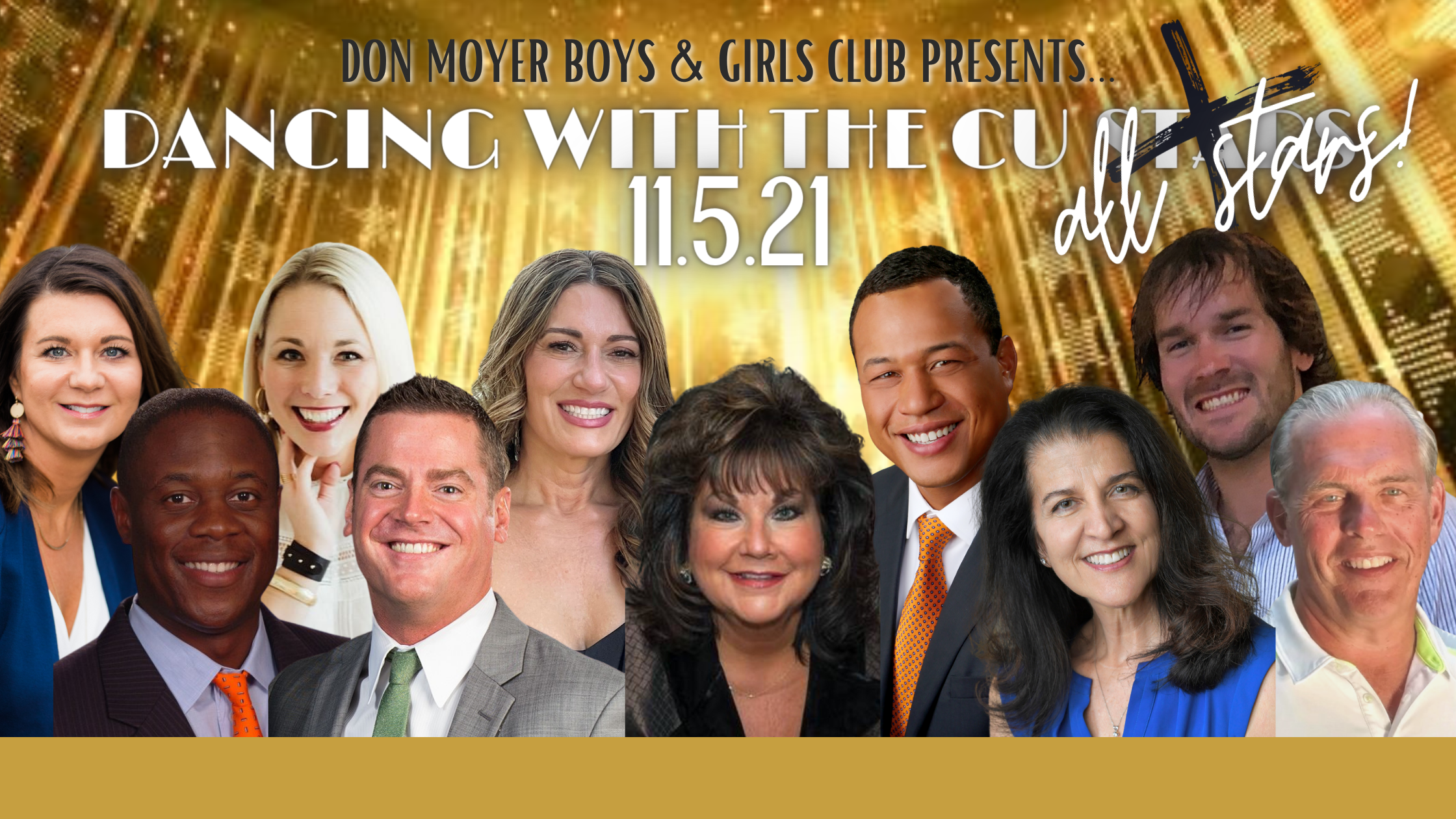 Join Don Moyer Boys & Girls Club for Dancing With The CU All Stars!
Friday, November 5th // 5:30 PM // I Hotel & Conference Center
This year we are bringing back nine of our "ALL STAR" Celebrity Dancers to make this year's show the most entertaining one yet! Along with a great show, we have some exciting things planned to celebrate the Gala's 10th Anniversary & Christie's last dance...including finally getting Christie on the dance floor! 
Christie Ramshaw will not be competing for the coveted mirror ball trophy, she's leaving that to the all stars! However, she is fundraising for a special scholarship to be announced the evening of Dancing With The CU All Stars.
Dancing With The CU Stars continues to be Don Moyer Boys & Girls Club's most anticipated fundraising event of the year and plays a large role in the overall success of our Club. Dancing With The CU Stars isn't just a fundraiser, it's an entertaining event & night out to support Kids in our community who need us most!
Click HERE to vote for your favorite Celebrity All Star Dancer(s)!
Thank you to this year's Celebrity All Star Dancers for once again saying YES to supporting our Club & Kids- 
Christie Ramshaw
Katy Behnke
Tom Fiedler
Gina Hartleb
Matt Jones
Denise Martin
Nicole McGuire
Scott Miller
Howard Milton
Luke Sherman 
---
CLICK HERE to view the LIVE show!!!
*please note the show will not begin until 6:30 PM on Friday, November 5
HOW TO VIEW THE SHOW:
From a Laptop or Smartphone
simply click the link above and the LIVE show stream will appear
From a Smart TV 
To view the video on a smart TV, viewers will need to download the free BoxCast app to their streaming device (appleTV, Roku, Firestick, etc)  This will be available in the App Store for your device. If you are unable to access the app, simply type in https://bit.ly/3mRhm0J in your internet browser. 
If you do not have the listed streaming devices, most computers and/or phones (with an adapter in some cases) can also be attached directly via an HDMI cable to the TV. 
Once the application is downloaded, search for Don Moyer Dancing with the CU Stars and the event should pop up. You should see a screen that reads "Dancing With the CU Stars" along with our logo as well as the Dancing with the Stars logo.